Bobby Sands' agent Owen Carron speaks at hunger strike event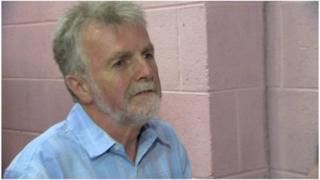 One of the most high profile of the so-called On The Runs has spoken at a republican hunger strike commemoration.
Owen Carron organised Bobby Sands' election campaign. He was elected as MP for Fermanagh South Tyrone following Sands' death in 1981.
He spoke at the event commemorating the 33rd anniversary of the hunger strikes in the Republic of Ireland on Friday.
Mr Carron fled Northern Ireland in 1986 after being charged with possession of an AK47 rifle.
It is understood that he has not sought a "letter of assurance" that could allow him to return to Northern Ireland and that the PSNI investigation is still open.
The controversy over letters issued to other On The Runs resulted in an inquiry led by Lady Justice Hallett.
She concluded the letters were not an amnesty and the scheme was lawful, but there were "significant systemic failures" in how it operated.
At an event in Ballyconnell, County Cavan, in the Republic of Ireland on Friday evening, Mr Carron referred to the 29 years he has spent living in exile in County Leitrim after leaving Fermanagh.
He told the audience of about 200 people including several Sinn Féin MLAs, that it was hard for him to speak about the hunger strikes as it was an intensely emotional time as well as a watershed period in history.
The republican hunger strikes began on 1 March 1981 following the government's decision to treat IRA prisoners as ordinary criminals, refusing their demands to be treated as prisoners of war.
Ten men would eventually die in the hunger strike at the Maze prison. Bobby Sands was the first to die. It was a period of huge community tension - some 60 civilians, police and soldiers died in the violence which accompanied the seven-month campaign.
Mr Carron said he first met Bobby Sands when he was 30 days into the hunger strike in the prison hospital.
He said: "It never, ever crossed his mind in any of our conversations that he should stop. He always knew that he would die, and perhaps that one other would die as well before the British would move".
He said the prisoners won a huge moral victory, and gave birth to Sinn Féin as a radical party.
The event marked the launch of the 33rd National Hunger Strike Commemoration that will culminate in a parade in Derrylin, County Fermanagh, on 3 August which, organisers say, will attract 10,000 people.
Unionists have criticised the commemoration as insensitive.
Ulster Unionist MLA Tom Elliott said: "They should show some compassion for the IRA's victims and realise the hurt and upset their hunger strike march is causing and also the negative impact on community relations.
"In this small area of Northern Ireland the IRA murdered, among others, a farmer and his wife while watching TV, a school bus driver while collecting primary school children at a school, and a primary school teacher while at his place of work where he taught children.
"The fact that the march will go past the spot where the IRA shot Jimmy Graham on a school bus as he was taking children to the swimming pool will cause more anguish and pain for his long suffering family.
"Now republicans intend to pile more pain on them. Instead of glorifying terrorists and criminals, Sinn Fein and the organisers of this march should show some compassion for the victims. Violence was wrong then and it is wrong now."