'Moses of Scotch Irish' Rev James McGregor to be honoured in Aghadowey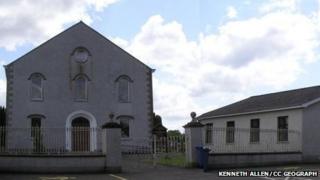 A man from Magilligan, dubbed the Moses of the Scotch Irish in America, is being commemorated.
Rev James McGregor was an 18th century pioneer who is credited with founding Londonderry Mark II in north America.
He is being honoured with the unveiling of an Ulster History Circle blue plaque and reception at Aghadowey Presbyterian Church on Monday.
Mr McGregor (1677-1729) was a veteran of the Siege of Derry.
He led hundreds of his congregation to America in 1718, where they founded the towns of Londonderry, Coleraine and Antrim.
He was the leader of the pioneers that in 1719 settled the Nutfield grant in Southern New Hampshire - now the towns of Derry, Londonderry, Windham, as well as portions of Manchester, Hudson, Salem, and Pelham.
He is also the great, great, great, great grandfather of US Secretary of State John Kerry.
Colony
In 1701, Mr McGregor, who was a fluent Irish speaker, became the pastor of a small Presbyterian church in Aghadowey and in 1710, the synod gave him the privilege of preaching in Irish.
At that stage, Presbyterians were not allowed to hold office, teach or to conduct most civil ceremonies such as marriages and funerals.
In early summer 1718, Mr McGregor and the major part of his congregation set sail for Boston on the brigantine Robert.
The group consisted of about 200 people, primarily from 16 families and ranging in age from babies to an elderly couple aged 90.
Arriving in New England, they found they were not welcomed by the Puritans of Boston. They were diverted to Maine where they suffered a long, cold winter.
Returning south in the spring, they heard about an unoccupied piece of land in the province of New Hampshire that had been previously named Nutfield.
By the end of the first year, the Nutfield colony was judged a success. Under McGregor the community soon built a meeting house, church and a school.
Diaspora
Nearly every house was soon spinning and weaving linen. In 1722 Nutfield was incorporated as a town and took as its official name: Londonderry.
The news of the success of Londonderry soon spread back to Ulster and thousands were inspired to follow McGregor across the Atlantic to the New World.
Mr McGregor died on 5 March 1729, at the age of 52.
Chris Spur, chairman of the Ulster History Circle, said: "James McGregor was a man who saw and made history.
"The Ulster History Circle is delighted to honour the Rev James McGregor with this blue plaque in Aghadowey where he became minister in 1701. The circle would particularly like to thank the Ulster-Scots Agency for their financial support towards this plaque."
Ian Crozier, CEO of the Ulster-Scots Agency said: "The Ulster-Scots Agency is delighted to be able to highlight the contribution to another Ulster-Scot who has made a huge difference to the religious landscape of New England and of Ulster-Scots diaspora."