Belfast book of condolence opens for victims of air disasters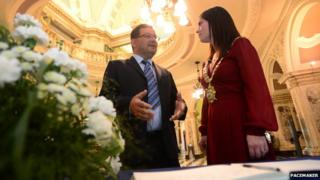 A book of condolence for the victims of three recent airline disasters has opened at Belfast City Hall.
The book commemorates the 298 people who died on Malaysia Airlines Flight MH17 on 17 July.
It also remembers the 58 people killed when a TransAsia Airways plane crashed in Taiwan on 23 July and the 116 people killed in the Air Algerie crash in Mali on 24 July.
The book was opened by Lord Mayor Nichola Mallon.