Hundreds join Belfast Gaza protest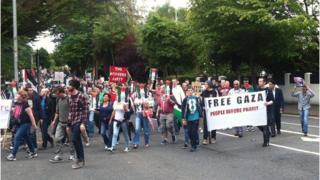 More than 500 people have joined a march in Belfast in protest against Israeli actions in Gaza.
It is 19 days since Israel launched an offensive against Hamas militants. The death toll has passed 1,000, Palestinian medical officials have said.
Protesters walked from Botanic Gardens in south Belfast to the US Consulate on Saturday afternoon.
Speakers said the turn-out showed how Belfast felt about the conflict.
Gerry Carroll from the People before Profit group, called for Israel to be boycotted and the Israeli ambassador to be removed from the Republic of Ireland.