Peter Moloney's Irish Troubles collection 'free to good home'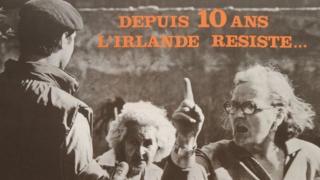 The largest known private collection of memorabilia charting the history of Ireland and the Troubles is being offered free to a good home.
Peter Moloney, a retired architect based in London, was aged 15 when he began collecting what amounts to an 38,000-item archive.
It includes political propaganda, pamphlets and posters,
It has already attracted interest from major museums such as the Victoria and Albert Museum in London.
But Mr Moloney, who is the son of Irish emigrants, would like to see it on public view in Ireland.
Artefacts
The collection includes more than 3,000 political journals, 2,000 books, 15,500 images of banners and murals, 2,000 posters and 1,000 badges as well as cartoons and stickers.
Earliest pieces include an 1886 leaflet about a London gathering for Home Rule and postcards of the 1916 Easter Rising.
But most of the collection dates from the Northern Ireland civil rights movement in the 1960s up to the early years of the peace process.
There are artefacts from Bloody Sunday, the hunger strikes, peace initiatives, campaigns against plastic bullets, internment, extradition and the Prevention of Terrorism Act.
There is also an old Irish 10p coin stamped by the Ulster Defence Association as part of a loyalist sabotage campaign on the Republic of Ireland's currency; "Ulster Says No" cigarette lighters and Orange Order Christmas decorations.
Mr Moloney's father is from County Clare and mother is from Londonderry. He was born in Buncrana, County Donegal, in the Republic of Ireland and raised in London.
He lectured widely in the UK, Europe and the US on the Northern Ireland Troubles and used his collection originally as a means of illustrating his talks.
"Then I just became fascinated because some of the images were so powerful," he said.
"I felt a lot of this material - some of which is quite frightening as well - I thought it wouldn't survive. I thought it was important that I get my hands on as much of it as possible to try and safeguard it."
Since 1969, he has made one or two pilgrimages to Ireland every year, starting in Dublin, then travelling to Derry and Belfast to gather the latest propaganda and mementoes. The labour of love was not without its dangers.
He was questioned by special branch detectives at least 35 times - and was once held overnight - as he returned with the latest additions to his archive, both republican and loyalist.
"They were a bit confused, wondering what side is this guy on," he said.
In the mid-1970s he had to flee the attentions of the Ulster Volunteer Force while buying loyalist badges on Belfast's Sandy Row.
The shopkeeper who recognised him from previous excursions gave him an alibi.
Mr Moloney believes the collection shows the good and bad done on both sides of the divide.
"I think it is an important slice of our recent social history," he said. "It is part of our shared identity, whether we like some of it or not."
"I would like to think it would be a motivator for peace and reconciliation and common understanding," he said.
"Some of the pieces half of the community will hate and others the other half will hate, some will be shocked and some will even cry over them.
"But we have to face our past to make sure we don't go there again."
The Victoria and Albert Museum is borrowing some of it for an exhibition called Disobedient Objects, while other items are on loan to a show touring Ireland by Healing Through Remembering.
Other museums - including the Guernica Peace Museum in Spain - have asked for some of the material, but Mr Moloney wants it to remain as a single collection in Ireland, and preferably, he said, in Derry.