Lord Kilclooney: Gaza conflict is 'slaughter of the innocents'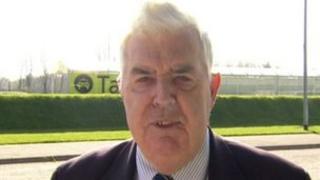 The former deputy leader of the Ulster Unionist Party has described the conflict in Gaza as "one of the worst tragedies playing out in the world today".
Lord Kilclooney said: "It is the slaughter of the innocents in Gaza. It is dreadful what Israel is doing."
He also called on Palestinian militant group Hamas, which controls Gaza, to recognise Israel's right to exist.
Some 1,060 Palestinians and 46 Israelis have died in recent hostilities.
Most of those killed in Gaza are civilians, Palestinian health officials say, while 43 soldiers and three civilians have died on the Israeli side.
Speaking to BBC Radio Ulster's Sunday Sequence programme, the former MP said: "There are two problems in that part of the world. One is that Hamas refuses to recognise the right of Israel is exist.
"The other is, and I've seen it with my own eyes, that Israel is planting Jewish settlements illegally in land that it is seizing from Palestinian families.
"Hamas are gaining support because of the actions of Israel, sadly. That is the problem."
Lord Kilclooney said that the "issue of recognition" was a crucial point towards a settlement in the Middle East.
"We know that the issue of recognition is important here in Ireland. We remember that the Republic of Ireland for decades refused to recognise the right of Northern Ireland to exist.
"It meant that there was no co-operation.
"Then with the Belfast Agreement, it meant that Dublin had to recognise this state of Northern Ireland.
"The reality is now we have great co-operation between Belfast and Dublin.
"The same would happen in the Middle East. If Hamas would agree with the Palestinians who live in the West Bank that they recognise the right of Israel to exist, we could begin to get a settlement moving in that part of the world," he said.
"The situation on the ground in the West Bank, in Gaza and in east Jerusalem is terrible. It has to be seen to be believed.
"I believe that Israel has every right to exist, that its security must be guaranteed, but at the same time that Hamas would score diplomatically if they would agree that Israel had that right to exist.
"That would begin the negotiations that would lead to a lasting peace."