Newry mayor : Unionists call for apology over Gaza letter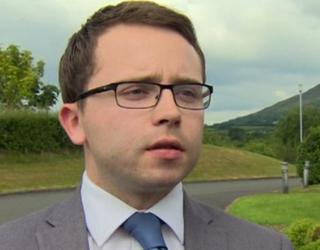 Unionists have called on the Sinn Fein mayor of Newry and Mourne District Council to apologise for urging shops not to sell goods from Israel.
Cllr Dáire Hughes wrote to traders in the area asking them to consider not stocking Israeli goods.
He also asked them to provide a list of products they stocked from Israel to help customers to boycott Israeli goods.
Ukip's Cllr Henry Reilly said he should offer traders a "wholesome apology".
Newry and Mourne District Council distanced itself from the letter.
A spokesman said it was issued by an individual and had not been adapted by the council.
On council-headed notepapers, Mr Hughes wrote: "I would request a list of all products you stock from Israel or the occupied territories."
He added, however, that the letter was "in no way intended to reduce trade in your store".
Mr Hughes said he had no regrets about writing the letter.
"I understand that some councillors believe the letter was sent on behalf of Newry and Mourne District Council, I thought it was clear in the letter that it wasn't," he said.
"Some councillors have expressed anger at the fact that they were associated with it.
"If that's the case, I apologise, but I in no way meant to associate any councillor beside myself with the letter that I ultimately sent.
"I have no intentions of rescinding the letter."
Unionists said the mayor had no right to send the letter.
Ukip Councillor Henry Reilly said: "He has to come out and give a very wholesome apology to the people of the district and recognise there is more than just one opinion in this district on the Middle East crisis.
"In purely civic terms, the fact that he has written to significant employers in the district with this letter, demanding information, that type of thing, that was a big mistake.
"I hope the retailers do put it in the bin where it belongs."