Safe drug substitute users rise dramatically in Northern Ireland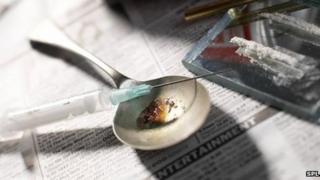 The number of Northern Ireland patients using a service that provides safe and legal substitutes for drugs such as heroin has risen dramatically.
The substitute prescribing service was set up in 2004 to help patients with addictions to opioid drugs.
Since then, its patient numbers have increased by more than 200%, according to the Health and Social Care Board.
The ultimate goal of the programme is to help drug users become totally detoxed.
In 2005/06, 284 patients used the service. In 2013/14 the total number of patients receiving treatment was 860.
Dr Brenda Bradley from the Health and Social Care Board leads the substitute prescribing programme.
"It is a programme that is designed to support patients who are being treated for addiction problems," she said.
'Untapped need'
"We know that in any given year, probably about 20% of the patients who go through the service will come off, so it's not a bad ratio.
"I think there was obviously an untapped need, there were obviously a lot of patients there who needed support who weren't actually getting that.
"So when the service came into being, as the word on the street got out that there was a service available, then patients would have come into it.
"I don't think it necessarily reflects that we have had a huge increase, with 200% in terms of patients actually using illegal drugs, but it's a reflection that people feel happier to come forward and are seeking treatment," she said.
One former heroin user, who wished to remain anonymous, helped to establish the substitute prescribing service in Northern Ireland.
Colin, not his real name, explained his involvement with the programme.
'Mugging people'
"It was a very difficult task, as there was obviously some resentment towards helping anyone with a heroin problem," he said.
"So, once we got it into Northern Ireland, we saw the help that it was doing.
"There was a lot of support from the medical side of things. GP's, people in addiction services, saw the number of cases of HIV, hepatitis going down."
Colin said the crime rate was dropping because people were then stabilised.
"As a service and what it does, I think it's brilliant. It's a great idea and it gives people a chance to get their lives back," he said.
"Whenever you have been using heroin, it takes up massive amounts of your time.
"Just to have the substitute prescribing team there, where you can go into the chemist each morning and get your methadone and then carry on and actually do something with your day, it's a phenomenal achievement to be able to get your life back."