Coleraine Mayor George Duddy's home attacked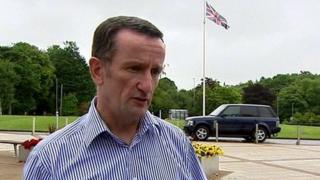 The home of the DUP mayor of Coleraine, County Londonderry, has been attacked for the third time in less than a year.
Graffiti was sprayed on a wall of George Duddy's home on the Drumaquill Road in the town.
Mr Duddy said graffiti was also sprayed on a neighbour's house and a flag taken from it. A car belonging to the neighbour's sister was also attacked.
The deputy first minister has condemned the attacks.
The mayor said he thought the attacks were sectarian, as each of the victims had union flags flying at their homes.
"It would be very hard to put your finger on what these individuals' motive would be, I would put it down to sectarian hatred," he said.
"Each of us who were attacked last night fly the union flag, the flag of our country, and I can only presume that it was sectarian hatred for the flag of our country.
"It's a small minority who are doing this within the community of Coleraine and when I say a small minority, I am talking about probably half a dozen plus people who are carrying out these attacks."
It was reported to police that a corrosive liquid had been poured over a car parked in the Granary Drive area.
It was also reported that a union flag was removed from the front of a house in the Quilly Road area and graffiti was then sprayed on the front porch of the house.
The deputy first minister said he believes the attacks were sectarian.
"I unreservedly condemn last night's racist attacks in east Belfast and the overnight sectarian attack on the home of DUP mayor of Coleraine," said Martin McGuinness.
The DUP MP Gregory Campbell said the campaign of hate directed against Mr Duddy needs to end.
"For the first citizen of the borough to be attacked is an attack upon the whole community in Coleraine,"
"They should stop this campaign of hate and allow the mayor and his neighbours to live in peace. An increased police presence is required to stop these attacks," he said.
SDLP assembly member John Dallat said the the attacks were "appalling".
"Everyone should be allowed to live in peace and enjoy their home without fear of attack from thugs and cowards," he said.
"These despicable attacks must stop, and the people of Coleraine should not tolerate them."
Police have said there could be a link between all three attacks and are treating them as a hate crime.