Chernobyl children still suffering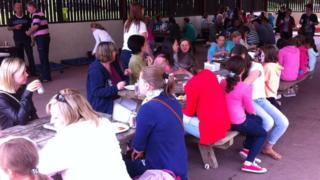 For the past 20 years, families in Northern Ireland have given up part of their summer holidays to host children affected by the 1986 Chernobyl nuclear disaster
Since 1994, a charity has brought 3,400 children from Belarus and Ukraine to spend three weeks away from the area that still suffers from high levels of radiation.
The chairman of Chernobyl Children's Appeal, Michael Donnelly, said their work was still needed after all this time as the Chernobyl disaster would leave its legacy for many years to come.
This year 46 children are staying with families in Omagh, Newtownabbey, Cookstown and Larne.
Severely damaged
As well as providing respite holidays, the charity also helps to recuperate children within Belarus and Ukraine who cannot leave the country, and also supplies humanitarian aid to hospitals, schools and orphanages.
"These children are forced to suffer through no fault of their own and it means that their immune system is severely damaged, especially young girls who suffer a lot of thyroid problems," Michael Donnelly said.
"Bringing the children here for three weeks reduces the toxin levels in their body by up to 40%."
He said he does not see an end to the charity's work.
"Not in my lifetime - it's no better now than it was 28 years ago.
"The level of radiation in the Chernobyl zone is still the same today as it was in 1986".
John McDermott from Carrickfergus is hosting one of the children.
"Having known about the disaster in Chernobyl, it was just through a friend of a friend, and we were asked if we could host a child for three weeks," he said.
"Everybody has a streak of humanity and charity running down them and over the last 10 to 12 years we've been able to donate three weeks of our holiday period to bring a child over, and its really to give that child something that they ordinarily wouldn't have."
He said that apart from the medical benefits, the holidays provided the children with the chance to get out of the country see a bit more of the world.
Now that his own sons have left home, he said that bringing another child into his house meant it was "just nice to sit and listen to the laughter and listen to the talking".
One of the interpreters, Zoya Kurnosoa from Belarus, first came to Northern Ireland on one of the charity's holidays when she was seven years old.
"I was here when I was a small girl and it was a great possibility to see a new place, new people, a new culture, new everything," Zoya said.
'Responsible'
She said coming back was amazing.
"To come back when you are not a small child, a grown-up, its great and when you are responsible for the children, I love it."
In 2006, the charity also funded five students from Belarus to study childcare for a year at Omagh College.
This year one of those students, Marina Dovgaleva, has also returned as an interpreter, having gone on to university and become a teacher.
"I studied in Omagh college eight years ago with another five Belarussian girls," she said.
"Studying at Omagh College gave me a good (push) to become a teacher of English in future.
"It was my dream to come back to Northern Ireland as an interpreter again."
With the continued generosity of its supporters, the charity's work will go on as the effects of the Chernobyl disaster continue to affect those who live there.