Only 30% of councillors in new super councils are women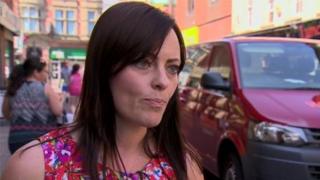 Although women make up just over half the population in Northern Ireland only around 30% of councillors in the new Belfast super councils are women - that's a small drop from the current council numbers.
In some cases, women are better represented in the new super councils.
The councils become operational next year following last May's elections.
Mid-East Antrim has a 30% ratio, whereas the existing Larne council has just 13%.
The lowest percentage is in the new North Down and Ards super council - it is only 17% female.
And, in many of the 11 new super councils the percentage of women has dipped.
In the newly merged Armagh, Banbridge and Craigavon council it's 26% , a drop from the 40% female representation that exists at present in Craigavon and Banbridge councils.
The SDLP's Nichola Mallon is Belfast's new lord mayor and only the third woman to hold the post in the city council's 100-year history.
She has made the forgotten a theme of her year in office and hopes to inspire other women into politics.
"I have an initiative where one girl a month will shadow me," she said.
Perspective
"What I hope to do there is to give them an insight into what it's like to be lord mayor and to connect the position of lord mayor to young girls across the city so hopefully one of those girls you might see them as a future lord mayor of the city."
Ms Mallon said women bring a much-needed perspective to the table.
She said there were a number of factors that hindered woman entering the political arena.
"I think confidence is one, I think the culture of politics is another, candidate selection is one, resource is another, and I think those combined make it difficult," she said.
"Childcare is another issue that can be a real challenge to women who have children because when you're in politics you work very long and anti-social hours and it can be a very aggressive environment, so I think we need a culture change within politics."
Commentator and journalist Fionnuala O Connor said it was a quirk that this year the lord mayor, deputy lord mayor and high sheriff were all women.
"The fact that we're making so much of it is a comment on the fact that women are not a minority, that women are at least half of the population everywhere and that we are still so far short of that in terms of political representation, it is worth commenting on.
"It's just a bit depressing that is should still be so in the 21st Century," she said.
Political parties in Northern Ireland have said they would like to have more women come forward for election, indeed some new female candidates not only got elected but did better than expected in the last council poll.