NIHRC inquiry told of nurses' workload and staffing concerns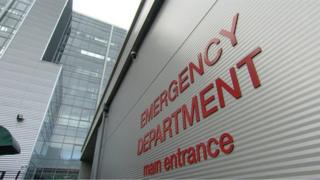 Excessive workloads, staffing and the use of locum doctors are among concerns raised by nurses during an inquiry into emergency care in Northern Ireland.
The Royal College of Nursing (RCN) said the pressures facing nurses are so bad that some are opting for part-time work in spite of needing a full-time income.
The concerns are outlined in the RCN's submission to the Northern Ireland Human Rights Commission inquiry.
The inquiry is examining whether patients' rights have been violated.
The NIHRC investigation, which is the first of its kind, was announced in June following months of controversy over Northern Ireland's emergency care provision.
'Incredible pressure'
Healthcare staff, management, patients and members of the public are among those who have been asked to give evidence to the inquiry.
The RCN's deputy director in Northern Ireland, Garrett Martin, told BBC Radio Ulster that parts of his organisation's written submission to the inquiry made "disturbing reading".
"Nurses working in emergency care and in other care settings are working under incredible pressure that is very stressful - emotionally, physically and psychologically very demanding work.
"One of the things that our members report to us is that the most stressful part of their job is the inability to provide the level of care that they wish to provide; that they don't have the time or the tools and resources to do that.
"In order to deal with that and cope with that, many staff end up either leaving the area that they are working in, working part-time, or trying to find work elsewhere," he added.
Patient backlog
In February, it was revealed that as many as five patients died in Northern Ireland's biggest hospital last year, partly because they were not treated quickly enough in the emergency department.
The previous month, Belfast's Royal Victoria Hospital (RVH) declared what it described as a "major incident" due to large backlog of patients at its A&E department.
The Northern Ireland Human Rights Commission inquiry is currently accepting submissions and its public hearings are due to begin in September.