Bloody red shrimp invades Lough Erne in County Fermanagh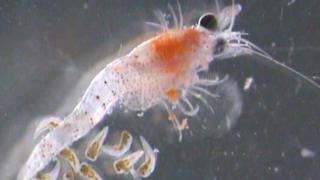 A new invasive species, the bloody red shrimp, has been discovered for the first time in Northern Ireland in Upper Lough Erne.
It was found during a fish survey for the Environment Agency.
The bloody red shrimp was first discovered in Ireland in 2008 in the Shannon River catchment in the Republic of Ireland.
Unlike similar native species it can be seen swarming in shaded areas during the day.
Dr Robert Rosell, senior fish biologist at the Agri-Food and Biosciences Institute (AFBI), Belfast, said: "This species is similar to the established non-native zebra mussel that originated in the Ponto-Caspian region of Eastern Europe and has gradually spread westward.
"Once introduced into the river system here it has expanded its range probably as a result of leisure craft moving between river catchments via the Shannon-Erne canal."
The shrimp was found in County Fermanagh as part of the AFBI-led DOLMANT Project, focussing on the development of lake management tools.
DOLMANT Project leader Dr Yvonne McElarney said the main concern was the potential adverse impact on the ecology of Lough Erne.
"This species is known as a voracious predator that has the potential to have a serious impact on plankton composition," she said.
"Findings such as this underpin the importance that the DOLMANT Project has on understanding the lake ecosystem and the impact of change in lakes."
Stephen Foster from the Environment Agency said it was "extremely important" to try to minimise the spread of non-native invasive species.
"Invasive alien species are widely recognised as one of the greatest threats to our native biodiversity," he said.
"Once an invasive species has established within a habitat its spread can be rapid, out-competing native species."