Staff Island on Upper Lough Erne put up for sale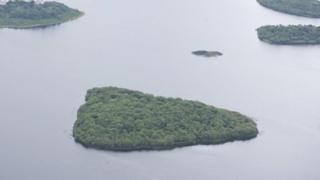 A private island in Lough Erne, County Fermanagh, has been put up for sale.
Staff Island, which is almost 10.25 acres, is situated off the south western shore of Upper Lough Erne.
Estate agent Eadie, McFarland and Co, said while the island was wooded, there were enough open spaces between the trees for the owner to walk.
Walter McFarland, who is looking after the sale, said it was the "ultimate hideaway" for anyone who had around £125,000 to spare.
He said any prospective buyers would not be able to build a house in the "conventional traditional" sense.
"It would be extremely unlikely you would get planning permission, maybe a little cabin, you would need permission," he said.
"People tend to use them to pull their boat their boat up on and just BBQ, walk through the island."
Mr McFarland said the island was a "nice size".
"A lot of islands are too densely wooded to walk through easily," he said.
"It's wooded, but there's nice spaces between the trees and it's very, very pleasant to walk through. There's a lot of flora, fauna, and wildlife."