WW1 centenary commemoration takes place in Dublin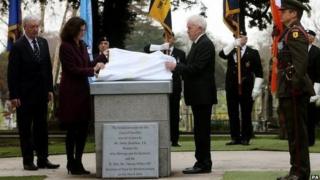 The Irish president, the Duke of Kent and Northern Ireland's secretary of state are attending a World War One commemoration in Dublin.
They will dedicate a cross of sacrifice at Glasnevin Cemetery to mark the 100th anniversary of the outbreak of the war.
A military band, made up of musicians from Irish Army and British Army bands, is performing at the ceremony.
In March, Northern Ireland Secretary of State Theresa Villiers helped to lay a foundation stone for the cross.
She was assisted by the then Irish Arts Minister Jimmy Deenihan.
On Thursday, Ms Villiers said it was a "magnificent project" and she considered it a "great honour and privilege" to return to Dublin for the unveiling ceremony.
"The high level attendance from the UK and Ireland is a clear demonstration that we remain committed to working together to mark the centenaries of the First World War and the wider decade of centenaries across the island of Ireland," she said.
"It is important that we use every opportunity to raise awareness of the shared history between the UK and Ireland and between the communities on both sides of the border.
"It is fitting that they now have access to a site where they can come together in quiet contemplation to pay tribute to the memory of those who gave so much for our freedom," Ms Villiers added.
The cross of sacrifice is a veterans' symbol that was designed for the Commonwealth War Graves Commission (CWGC) shortly after WW1.
The newly installed cross at Glasnevin Cemetery is the first to be erected in the Republic of Ireland.
The Duke of Kent, who is the president of the commission, said the dedication of the new cross was "an important step in the continuing process of recognising and remembering those Irishmen and women who died in the two world wars".
"It represents a lasting tribute to their sacrifice and it is my hope, in the years to come, that memorials such as these continue to inspire successive generations to remember," he added.
Deirdre Mills, the CWGC's director of UK operations, said: "We are extremely grateful to the Irish Government, public, and the Glasnevin Trust, all of whom have done so much to support our work of commemoration and remembrance in Ireland."
Historians have estimated that more than 200,000 Irish-born soldiers served in the British Army and Navy from 1914 to 1918.
The names of 49,400 Irish casualties of WW1 are listed on the Republic of Ireland's National War Memorial at Islandbridge, Dublin.