Police in Newcastle give revellers flip flops to wear home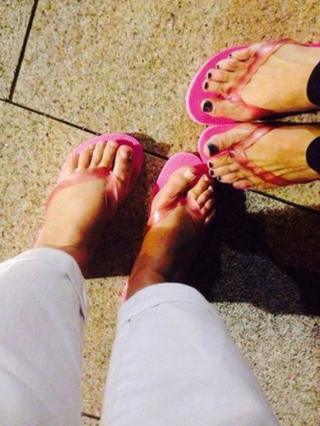 Police in Newcastle, County Down, are giving young people a leg up to get home safely by providing them with flip flops.
The initiative is part of the Reach project, which is funded by Down District Council and Community Safety Partnership (PCSP).
It was first introduced in the town in 2009 and relaunched earlier this year and is overseen by the Kairos Centre.
A similar scheme is already in operation in Omagh, County Tyrone.
As well as giving out flip flops, those involved also give out tea, coffee and lollipops and help ensure people get home safely.
Richard Morrison, from the Kairos centre said: "Over the last few years Kairos centre, the PSNI and the Down Policing & Community Safety Partnership have made sure that our young people who are discovering the joys and the pitfalls of nightlife are safe.
"Teams of committed volunteers from the Reach team have on Friday evenings worked alongside the PSNI, to make sure young people are warm, have flip flops for their sore feet, a lollipop to raise sugar levels, and sometimes even a shoulder to cry on.
"This has made a huge difference in their lives and put a smile on many a person in need."
Insp Mark Peters, from Newcastle neighbourhood policing team, said its aim was to ensure those enjoying a night out in Newcastle could do so "safely".
'Kind gesture'
"Getting involved in the Reach project gives us the opportunity to chat to those who are out and about in the town, form positive relationships with them and deal with any issues which might arise.
"Handing out things like flip flops and hot drinks is a simple, kind gesture but it is one that is appreciated by those who benefit.
"Indeed, on Saturday night, one of the response officers gave out flip flops to a few of the girls he was chatting to and they posted a photo of their flip flops and a message on our Down PSNI Facebook site to thank him."
PCSP Down chairman and councillor William Dick said the project made an "impact locally".