Irish President Michael D Higgins honours WWI soldiers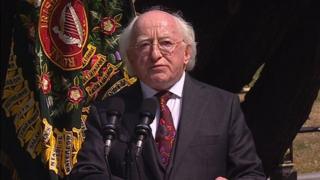 The Irish president has paid tribute to Irish soldiers who fought in World War One.
Michael D Higgins joined the Duke of Kent and Northern Ireland Secretary of State Theresa Villiers at a commemoration in Dublin.
They dedicated a cross of sacrifice at Glasnevin Cemetery to mark the 100th anniversary of the outbreak of the war.
A military band, made up of musicians from Irish Army and British Army bands, performed at the ceremony.
Both the British and Irish national anthems were played.
Lord Mayor of Belfast Nichola Mallon also attended the service.
In his speech, Mr Higgins said: "We cannot give back their lives to the dead, nor whole bodies to those who were wounded, or repair the grief, undo the disrespect that was sometimes shown to those who fought or their families.
"But we honour them all now, even if at a distance, and we do not ask, nor would it be appropriate to interrogate, their reasons for enlisting.
"To all of them in their silence we offer our own silence, without judgement, and with respect for their ideals, as they knew them, and for the humanity they expressed towards each other.
"And we offer our sorrow too that they and their families were not given the compassion and the understanding over the decades that they should have received."
Mr Higgins said that a century on, World War One remained "somewhat of a mystery".
"Why, when the hope of bringing the conflict to a decisive conclusion was dashed within months of its outbreak, did the combatants decide to persist, to mobilise for total war and eventually to commit the totality of their young manhood to mutual destruction?" he said.
"If all wars are an object of infinite sadness, this particular one also remains as an inextinguishable source of bewilderment."
'Tragedy of each single death'
He said it was important to go past the staggering statistics of the war and remember "the tragedy of each single death, of every life shattered".
Historians have estimated that more than 200,000 Irish-born soldiers served in the British Army and Navy from 1914 to 1918.
The names of 49,400 Irish casualties of WW1 are listed on the Republic of Ireland's National War Memorial at Islandbridge, Dublin.
Dedicating the cross of sacrifice, Mr Higgins said: "As friends we, Irish and British, share this moment of remembrance; and in mutual sympathy we dedicate this monument to the memory of all those who lost their lives during the too long, dreadful years of 1914 to 1918.
"Let us now, together, cultivate memory as a tool for the living and as a sure base for the future - memory employed in the task of building peace."
'Lasting tribute'
The Duke of Kent, said the ceremony was an important step in the continuing process of remembering those who died.
"It represents a lasting tribute to their sacrifice and it is my hope, in the years to come, that memorials such as these continue to inspire successive generations to remember," he said.
Ms Villiers, the secretary of state, said the event showed a commitment from Britain and Ireland to working together to mark the centenaries of World War One and other upcoming significant anniversaries.
"It is important that we use every opportunity to raise awareness of the shared history between the UK and Ireland and between the communities on both sides of the border," she said.
"It is fitting that they now have access to a site where they can come together in quiet contemplation to pay tribute to the memory of those who gave so much for our freedom."