Woman living in Belfast left children alone for days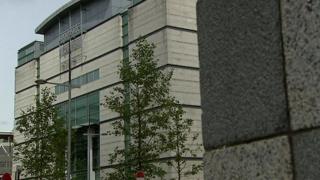 A woman with an address in Belfast who abandoned her three children at home overnight with no food, has been given a six-month jail sentence suspended for three years.
The children, two girls and a boy, were all under the age of eight at the time.
The woman, who cannot be named to protect the children's identity, admitted six charges of neglect and abandonment.
Social workers found the children alone when they called on 22 June last year.
On Thursday, Belfast Magistrates' Court heard that the children had been left overnight alone in the home, which was in an "unfit state".
The court was told the mother had admitted when questioned that the house "was a disaster" and that she had left the children alone before.
Her defence lawyer said his client had been the victim of emotional, physical and sexual neglect in her home country, Poland, and she had "detached herself" from her children.
A judge said the case was serious enough to warrant a prison sentence, but as she had no previous record he gave her a six-month sentence suspended for three years.