Belfast demonstrators protest at BBC Gaza coverage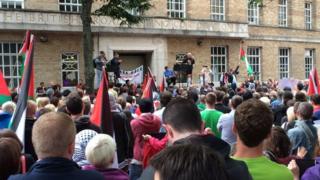 Several hundred people blocked a street in Belfast city centre as part of a protest against the BBC's coverage of the conflict in Gaza.
The protesters said the BBC's reporting was "unbalanced and biased", and called for a boycott of the licence fee.
The BBC has defended its coverage and said it has been "fair and impartial throughout".
The protesters, some of whom carried Palestinian flags, blocked Ormeau Avenue outside BBC Broadcasting House.