Gregory Campbell: Republicans raising tensions in Dungiven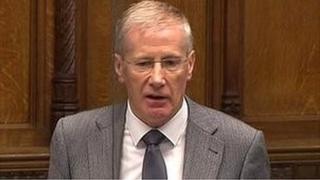 Republicans have been accused of increasing tension in Dungiven, County Londonderry, where a hunger strike commemoration is to take place.
DUP MP Gregory Campbell said the town "was bedecked" with republican flags to commemorate INLA member Kevin Lynch.
Mr Campbell said an Irish tricolour and a starry plough flag cast their shadow over the Church of Ireland graveyard.
Kevin Lynch, who came from Park, near Dungiven, died on 1 August 1981 after 71 days on hunger strike.
The republican hunger strikes began on 1 March 1981 following a government decision that republican prisoners would be treated as ordinary criminals, not as prisoners of war as the prisoners demanded.
Ten men would eventually die in the hunger strike at the Maze prison. Kevin Lynch was the seventh to die.
Lynch was a member of the Irish National Liberation Army (INLA), a smaller republican group than the IRA.
It was a period of huge community tension - some 60 civilians, police and soldiers died in the violence which accompanied the seven-month campaign.
Gregory Campbell said a flag has also been placed at a monument to the INLA man.
He said Dungiven was a small town where the population was overwhelmingly nationalist.
"The erection of flags in close proximity to the Church of Ireland's property will be seen as a deliberate attempt to intimidate the minority Protestant population in Dungiven and the surrounding area," the East Londonderry MP said.
"The analogy of what would have happened if there had been a reversal of this scenario is all too obvious.
"If, for example, an overwhelmingly unionist town which had a small Roman Catholic church on the Main Street had a monument to Billy Wright erected outside it, and then loyalist terrorist flags were erected beside the monument and adjacent to the church graveyard, what would the response had been?"
Mr Campbell said he had raised the issue locally and had been assured that the flags would be removed.
"The republican community now need to exercise whatever influence they have to ensure the flags are removed," he said.
"It would be an outrage if such behaviour was to continue."