Kincora: Peter Robinson says child sex abuse at home is a 'national scandal'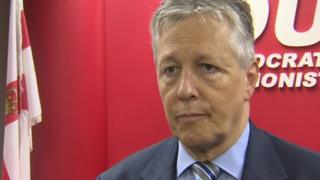 First Minister Peter Robinson has said that child sex abuse at Kincora boys' home is a "national scandal" that needs to be fully investigated.
He said he has written to the prime minister to urge that the east Belfast home is included in the ongoing Westminister child sex abuse inquiry.
Earlier, a former Army intelligence officer said he was ordered to stop investigations into the home in 1975.
In 1981, three senior care staff at the home were jailed for abusing 11 boys.
Brian Gemmell said he presented a report on claims of abuse at the home to a senior MI5 officer but was told to stop his investigation.
It has been claimed that people of the "highest profile" were connected to abuse at the home.
Earlier this month, another former Army officer, Colin Wallace, said any new investigation of Kincora must have access to information from intelligence agencies.
Mr Wallace said he received intelligence in 1973 to say that boys were being abused, but claims some of his superiors refused to pass on the information.
'Ruined lives'
Mr Robinson said that the allegations of a cover-up "need to be investigated".
"There are questions that have to be answered," he said.
"Because at the bottom of all this, and I've met some of the individuals concerned, we're talking about young boys who were put into the care of the state and we are now being told that there were agencies of the state who were aware of it and did nothing.
"That is the most serious allegation that can be made, particularly when you see just how much it has ruined the lives of so many people."
The first minister said he had written to the prime minister about a full investigation into Kincora.
"I hope to see him over the weekend at some events. Again, I will prompt him on the issue because I think it is one that is important, that the prime minister of our country gives a very clear steer that something has to be done."
Mr Robinson said any investigation would require full access to information from intelligence agencies.
"I think there has to be complete freedom on the part of those who want to give evidence to be able to do so.
"I don't think anybody is asking them to divulge national secrets, but this is a national scandal that needs to be dealt with and I trust that whatever steps are taken to ensure that the truth comes out are taken."
'Payroll'
The DUP leader added that there a was "prima facie case" for an investigation.
"The extent to which there is an avoidance of that kind of thorough investigation adds at least circumstantially to the case that there is something to hide," he said.
"If there is nothing to hide, why would anybody fear opening the books?
"Let's see exactly what has happened, whether the person at the heart of the Kincora scandal was indeed on the payroll of MI5, whether their handlers were aware of what was going on; why they chose, if that is the case, not to do anything about it and leave vulnerable boys in that situation.
"In some cases it goes beyond rumours," he said. "Again, you get down to what might be regarded as circumstantial evidence, but people did take their lives after being questioned by police on these issues.
"I've heard the rumours, I've read some of the documentation in relation to it and there is certainly a prima facie case that would merit an investigation."