Thousands attend annual Belfast Pride parade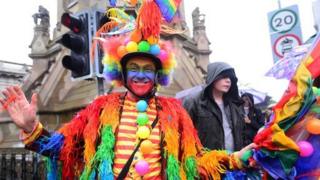 Thousands of people have attended the annual Gay Pride parade in Belfast city centre.
Now in its 24th year, the Belfast parade is claimed to be the largest of its kind on the island of Ireland.
The parade left Custom House Square at 12:00 BST and is making its way through the city centre.
The parade is part of a weekend of events to mark the Belfast Pride festival.
Chair of the Belfast Pride festival, Seán Ó Néill, welcomed the large crowds.
He said: "The rain hasn't put off tens of thousands of LGBT people and their friends who wanted to come out on the streets of their city today to celebrate and to continue to ask for full equality, the same rights as everyone else - no more, no less.
"We want Belfast to be the inclusive, progressive and confident city that we know it can be."