Met office: Yellow rain warning for Northern Ireland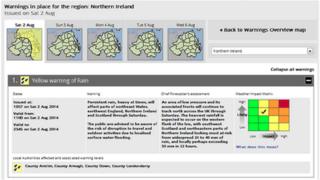 A yellow rain warning has been issued for Northern Ireland by the Met Office.
There may be 40-50mm of rainfall in some places.
The warning will stay in place until 23:45 BST on Saturday.
The heaviest rainfall is expected across Antrim, Down, Londonderry and Armagh with accumulations of 20 to 40mm of rainfall likely.
A Met Office spokesperson said: "The public are advised to be aware of the risk of disruption to travel and outdoor activities due to localised surface water flooding."
A yellow weather warning is issued by the Met Office to make the public aware of certain adverse weather conditions, in this case, the risk of flooding caused by prolonged downpours of rain.
Police have appealed for all motorists to "exercise caution" on the roads.
In a statement, they said: "Police are appealing to all motorists due to the adverse weather conditions and surface water to exercise caution, slow down, use your dipped headlights and keep a safe distance from the car in front."
'Wettest day'
BBC NI meteorologist Cecilia Daly said: "Some places will have had their wettest day today for several months, and some flooding is possible."
BBC NI's latest weather update with Cecilia has the full weekend forecast.
A yellow weather warning, the least severe weather alert, has also been issued for Wales along with parts of England and Scotland.
Met Éirann has issued an orange weather warning for severe rain in Leinster, Cavan and Monaghan.
Orange is second highest warning given out in the Republic of Ireland.
It said heavy rain between 25 to 40mm, has already fallen in parts, and that a further 40 to 60mm is expected to fall by 06:00 BST on Sunday.
A number of roads in Dublin have also been closed due to flooding.
To report a flood, please phone the Flooding Incident Line on 0300 2000 100.