Hunger strike parade takes place in Derrylin, County Fermanagh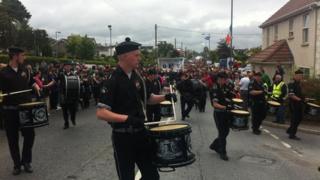 Thousands of republicans have taken part in a hunger strike commemoration parade in Derrylin in County Fermanagh.
Twenty-seven bands along with their supporters paraded down the main street of the village to attend the rally.
Among those there was the Sinn Féin president Gerry Adams and deputy first minister Martin McGuinness, as well as the Palestinian ambassador to Ireland, Ahmad Abdelrazer.
The event commemorated the 1981 hunger strikes in which 10 republicans died.
Local Sinn Féin MP Michelle Gildernew gave the keynote speech.
Speaking afterwards she said she hoped the event on Sunday would not offend anybody.
"I don't expect people to necessarily understand the narrative that I do, but I respect their right to have a different one," she said.
"All I'm saying to people is everybody who has died in the conflict, in the struggle, or any way, their loved ones are left behind and they're the people who grieve and mourn."
Last month, unionists expressed their opposition to the event.
The Ulster Unionist MLA Tom Elliott described it "highly insensitive".
He said the parade would "re-traumatise" people whose relatives were murdered by the IRA.
Fermanagh and South Tyrone MLA Arlene Foster said the hunger strike march was "the glorification of terrorism" and she called for stronger laws to deal with this.