Tin box contains key to family's wartime history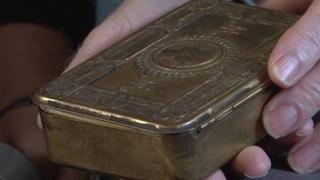 When John and Mary Craig from north Belfast sprung a leak in their attic little did they know that a little tin box they found would reveal a whole new part of their family's war history.
The tin had been kept in their attic with other belongings after John's mother passed away in the 1980s. But a chance discovery was to unlock a World War One history of the family.
Princess Mary, daughter of George V and Queen Mary, issued the decorative tins to serving soldiers at Christmas in 1914. The tins contained various items, including sweets and tobacco.
Treasures in the box
John Craig explains that there were hidden treasures in the box:
"There was some German money, a small book with his name in it and his army number. There was a poem in it."
The box and its contents had belonged to a long-dead uncle, Andrew Craig.
But Andrew's role in World War One was not what the family expected.
In fact it was only a small part of the story, as war expert and curator at the Museum of the Royal Ulster Rifles Amanda Morena discovered.
She used the information from Andrew's collection to piece together the family history and found that that there had been three Craig brothers.
"We could find that they all came from the same family in Ballymena. That they all enlisted on the one day, that they had sequential numbers, and it's just been a wonderful story," Amanda said.
Never made it to the trenches
Unlike his brothers, Andrew Craig never made it to the trenches.
Falling ill in a camp in England, most likely with meningitis, he was medically discharged but his two brothers Thomas and John fought side by side as part of the 36th Ulster Division.
Both brothers were wounded and while Thomas was promoted to corporal and got three medals, John was awarded two.
"I knew absolutely nothing of Andrew, a little bit of John," says John Craig, "but now with all this information that we have heard, it's totally unbelievable".
The tin that unlocked the Craig family war history was found almost 100 years after it was presented to Andrew Craig but it has given them a history that could so easily have been lost.