Analysis: What Maze row says about Northern Ireland government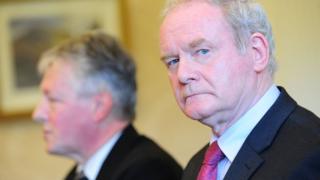 The cancellation of an open day featuring old planes normally wouldn't merit much mention.
Except that it says much about the malaise at the heart of government in Northern Ireland.
The Ulster Aviation Society wandered into the flight path of two constantly colliding parties who can't live with each other and can't live without each other.
The open day planned for the site of the old Maze Prison later this month is far from the first project grounded by the mutually competing vetoes employed by the DUP and Sinn Féin in the Executive.
This time its Sinn Féin saying "no" - in retaliation for the DUP's decision to withdraw support for the peace centre at the Maze site last year.
Previous victims, in no particular order, include the future of the 11 plus; welfare reform; and the budget.
A radio phone-in caller put it like this: "Unionists need to learn that every action has an opposite and equal reaction."
He could just as easily have said "Republicans need to learn etc...." The point is unless they both agree on an issue nothing happens.
The result is often inertia and an administration better known for what it can't do than what it can.
Officials mutter darkly about the the length of time it takes the two biggest parties to even agree on a simple press release.
Journalists often wait in vain for a reply to an inquiry they make to the Office of the First and Deputy First Minister.
The Ulster Aviation Society has had a similar wait for a reply to a request made months ago.
Now it has had to decide for itself that it won't be allowed to hold its open day at the Maze.
The least it deserved was an answer.