Northern Ireland house prices 'strongest since 2007'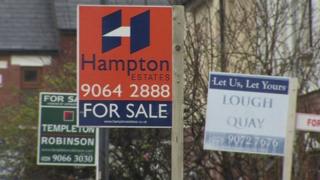 The performance of Northern Ireland's housing market between April and June was at its strongest level since 2007, according to researchers.
The findings are contained in the latest University of Ulster quarterly house price index.
The average house cost £139,720, up 6.9% on the same period last year and 1.4% higher than the first quarter.
Researchers said rises in transaction levels and prices suggested "a significant shift in market sentiment".
Paces of recovery
Estate agents who were surveyed reported 1,997 sales in the three-month period, compared with 1,409 in the same quarter of 2013.
The report suggests sales values "still reflected an affordable price structure in Northern Ireland".
While the overall price growth was reflected across several areas, the University of Ulster researchers said the inconsistent pattern suggested different paces of recovery across different parts of Northern Ireland:
Belfast (whole city): £145,551 average house price
North Belfast: £91,681
South Belfast: £187,897
East Belfast: £146,962
West Belfast: £122,902
North Down: £169,484
Lisburn: £167,569
East Antrim: £129,026
Londonderry/Strabane: £103,301
Antrim/Ballymena: £106,050
Coleraine/Limavady/North Coast: £140,226
Enniskillen/Fermanagh/South Tyrone: £123,042
Mid Ulster: £112,664
Mid and South Down: £140,889
Craigavon/Armagh: £95,156
While the percentage of properties selling at or below £100,000 declined to 40% from 43% in the previous quarter, the University of Ulster researchers said this still represented a large portion of the market.
The report's authors said: "Although there is still variability in prices across different house types and different areas of Northern Ireland, it would seem that the gradual recovery evident in recent surveys has moved to a new phase of greater buoyancy."
The report is produced in partnership with the Northern Ireland Housing Executive and the Bank of Ireland.
Alan Bridle, UK economist at the bank, said: "While local market performance remains highly variable, overall in Northern Ireland the recovery in house sales volumes and average prices continues.
"Recent regulatory changes to the UK mortgage market and the prospect of higher borrowing costs in 2015 may temper the rate of market growth but are unlikely to derail the recovery."