Judge rules 'very vulnerable' girl incapable of adoption consent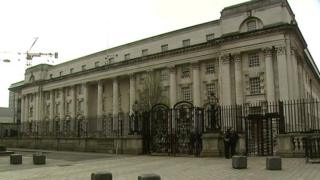 A High Court judge has cleared the way for the adoption of a toddler whose parents are teenage brother and sister.
The two-year-old boy, referred to as J, was born in 2012.
His mother, identified only as A and described as "a very vulnerable young girl", was 13 when she became pregnant. The father, Z, was 15 at the time.
Mr Justice O'Hara ruled the agreement of the boy's mother to a freeing order could be dispensed with because she was incapable of giving consent.
His verdict came in a case involving family circumstances described as "depressing" and "hugely unsatisfactory".
The court heard that both A and her son were taken into care - in different settings - within months of the birth.
With no suitable family arrangements available, J has since been placed with another couple.
The health trust involved in the case sought a freeing order on the basis that it was in the toddler's best interests to be adopted.
The court heard that A, now 16, has had an "exceptionally difficult life" with recurring social services involvement due to a variety of concerns about her, her siblings and her mother and stepfather.
"None of this is A's fault - she is a victim of the way in which she was raised," the judge said.
"It is hard to identify any positive life experience which she has enjoyed."
The judge detailed a consultant child and adolescent psychiatrist's report that "sets out in grim detail how miserable A's life has been".
The expert stated: "A is not in a position to fully understand the possible consequences of the various decisions which have to be made for herself and for J.
Based on her reports Mr Justice O'Hara ruled that the mother was not competent to make a decision on whether her son should be adopted.