Minister: Magee campus expansion 'off the table'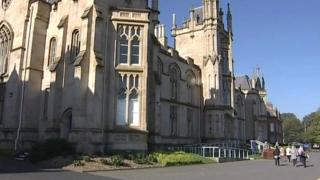 Further development of the University of Ulster Magee campus in Londonderry is "off the table", according to the minster for employment and learning.
Stephen Farry said the development would be delayed "for the indefinite future" due to the executive's failure to reach agreement on budgets.
The minister said his department faced cuts of £34m.
He told Radio Ulster's Nolan show that the number of university places could also be cut.
'Shabby politics'
"We are in a financial crisis through gross mismanagement that we should not be in," Mr Farry said.
Foyle MP Mark Durkan accused Mr Farry of "downright shabby politics".
He said it was "absolutely wrong" to use the expansion of higher education to make a political point.
Sinn Féin MLA for Foyle Maeve McLaughlin said the expansion of Magee was crucial to the regeneration of the city.
"Stephen Farry is practising microphone diplomacy, announcing unilateral decisions on the airwaves and is playing politics with vital issues," she said.
In July, planning permission was granted for an £11m extension to the Magee campus.
The plans included increased teaching facilities, a large lecture theatre, 20 classrooms and a cafe.
A business case was due for publication in September.
'Disappointed'
A spokesperson for the University of Ulster said: "We are disappointed with this announcement.
"The university has steadily progressed plans for the £11m Magee campus teaching block project and welcomed the planning permission granted just last month by the Environment Minister and Derry City Council.
"We were aware that both universities would suffer budget cuts in the current year, however the potential impact of these on specific projects had not yet been discussed.
"The university will now be seeking an urgent meeting with the DEL minister.
"The Magee expansion remains a priority for the University of Ulster and we will continue to work with all stakeholders to ensure that positive impact of this project on the city can be fully realised."
Student union leader Rebecca Hall said: "The minister's comments are extremely troubling. We need investment in students to help deliver the best possible educational outcomes and to help grow our economy.
"Students must not become the victims of any failure of government on agreeing on budgetary issues.
"There must be no political game-playing on the vital issue of investment in students and tertiary education."