Council defends role in removal of bonfire material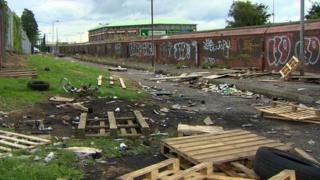 Belfast City Council has defended its role in the removal of bonfire material in the lower Falls area.
Republicans building the bonfire at Albert Street complained that a more lenient approach was taken with loyalist bonfires.
A petrol bomb was thrown as material was removed on Thursday by workers operating under police guard.
Two miles away, in the Beechmount area, a bonfire near a day centre was not removed.
Despite complaints from local residents, the Mica day centre for vulnerable adults was forced to close for the day on Friday to ensure the safety of staff and users of the facility.
The bonfire, which was built to mark the anniversary of the introduction of internment in August 1971, is due to be lit at the weekend.
No policy
A council spokesperson said there was no official policy on the removal of bonfire materials.
"We do sometimes assist in the removal of bonfire materials, this is only done upon request from communities and their representatives, and each request is considered on a case by case basis," they said.
With regard to the Mica Drive bonfire, the spokesperson said: "We continue to work with the Mica Drive community, its representatives and the PSNI in relation to this bonfire".
"A number of individuals remain on the site and on the bonfire itself and in the interests of health and safety it is not appropriate to remove these materials at the present time."
The council denied any bias in favour of 11 July loyalist bonfires.
"During July, if concerns were raised we carried out interventions and site visits as in a similar way to this month," it said.