All-Ireland Primate rejects Lord Carey's support of assisted dying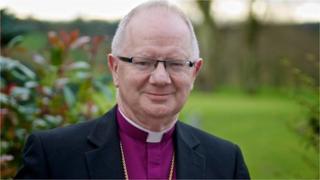 The senior Anglican bishop in Ireland has spoken out against a former Archbishop of Canterbury's support for assisted dying.
Archbishop of Armagh Richard Clarke told The News Letter that helping the terminally ill to end their lives was not in keeping with Christian teaching.
Last month, Lord Carey said he had changed his mind and was "less certain of my opposition to the right to die".
However, the Primate of All-Ireland said the comments were "perplexing".
Writing in the Daily Mail, Lord Carey said he would now support a bill proposed by former Lord Chancellor Lord Falconer.
It aims to allow mentally-capable adults with less than six months to live to receive help to end their lives.
Lord Carey, the former leader of the worldwide Anglican Communion, who now sits in the House of Lords, said that the long-established laws currently in place were "undermining the principle of human concern which should lie at the heart of our society".
"The fact is I have changed my mind. The old philosophical certainties have collapsed in the face of the reality of needless suffering," he said.
Lord Carey added that before he would have believed that people should be devoting themselves to care and not killing, but he now believed these arguments lacked power in the face of those approaching a painful death.
The Most Revd Clarke said that a fundamental Christian belief was that "our life on earth is not our property to do with as we choose".
"We need also to understand an important moral distinction between pointless and painful medical intervention on those who are undeniably reaching the end of their lives, and active clinical assistance to end life", he said.