Peter Robinson says Sinn Féin in 'denial' over financial penalties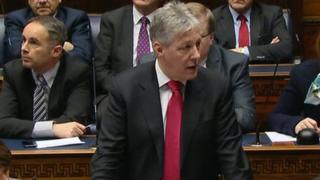 The first minister has said that the "shameless denial of economic realities" by Sinn Féin could end devolution in Northern Ireland.
Northern Ireland is being penalised by the Treasury for not endorsing welfare reforms passed by Westminster in February 2013.
Sinn Féin has opposed implementing the reforms.
Peter Robinson said parties had to decide if the benefits of devolution outweighed the financial penalties.
Last week, it was confirmed that Stormont departments, excluding health and education, were to have their budgets cut by a total of £78m.
Finance Minister Simon Hamilton also warned that further cuts, amounting to £87m, would be required if a deal was not agreed.
In his statement, DUP leader Peter Robinson was critical of Sinn Féin's refusal to support the proposed amendments for welfare reform in Northern Ireland.
He said a negotiated deal, which would have seen changes to what has been imposed elsewhere in the UK, would have provided "the best welfare payment system in the UK".
"No responsible party would allow the reductions in departmental funding to happen as a consequence of failing to accept the negotiated arrangements," he said.
He said the cuts resulting over a failure to agree on welfare reform would amount to about £1bn over the next five years in revenue expenditure and a similar amount in capital expenditure for the computerisation of an alternative benefits system.
Mr Robinson said he was also "greatly concerned" that all benefits involved in welfare reform paid to people in Northern Ireland would cease in early 2016 unless the executive put an alternative system in place.
Earlier on Friday, the Sinn Féin leader Gerry Adams Earlier reiterated his party's opposition to welfare reform and said the changes should be opposed by a united executive.
"We will oppose welfare reform - and it isn't welfare reform, it's cuts in the entitlement of citizens, it's led by a very narrow Tory ideological position," Mr Adams said.
"The way to oppose it is for the executive to be united. We're not and should not be in dispute with the DUP, the SDLP, the Alliance Party or anybody else on this island or in this state on this issue."
DUP MP Ian Paisley said: "The place for Gerry Adams and other Sinn Féin MPs, like DUP MPs, to oppose the worst elements of welfare reform is in the House of Commons."
Mr Paisley said Mr Adams, as a public representative in the Republic of Ireland, had "no mandate in Northern Ireland and should focus on his new constituency rather than carping from the sidelines to try and cover the blushes of his party's weak grasp of economics in Northern Ireland".