Anti-internment march: Shops closure had 'severe impact on trade'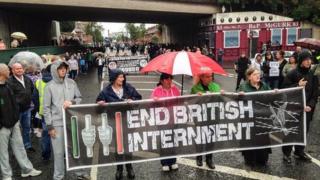 The closure of shops in Belfast city centre during a republican anti-interment rally had a "severe impact on trade", a business leader has said.
The march began in the north of the city and passed through Belfast's main shopping district on Sunday afternoon.
Loyalists staged protests against the parade that marks the anniversary of internment in August 1971.
Two people were injured when a small number of protesters threw fireworks, plastic bottles and coins.
A police officer and a member of the public suffered minor injuries.
A large security operation was mounted in the city ahead of the march and the related protests.
But the president of Belfast Chamber of Trade and Commerce, Paul McMahon, said trade had suffered badly.
"The city centre was closed for two hours, which had a severe impact on trade with many businesses remaining closed until the parade and protest had passed," he said.
"Once again disruption in our city centre has negatively impacted on businesses, tourism and our economy.
"Belfast Chamber of Trade and Commerce is calling for urgent, clear political leadership which moves the city and Northern Ireland forward."
Assistant Chief Constable Mark Hamilton said police would be reviewing evidence gathered at the event.
"There was a considerable policing operation put in place throughout the city centre today to ensure that the Parades Commission determinations, in respect of the parade and the associated protests, were upheld.
"Our focus was, as always, on keeping people safe."
"Police will now review all evidence gathered and pursue all relevant lines of inquiry relating to any offences or breaches of the Parades Commission determinations.
"Once the parade had passed through Royal Avenue, the area quickly returned to normal and all roads were reopened."
At the same event last year, 56 officers were injured when loyalists protesters attacked the police.
This year's republican march was organised by the Anti-Internment League, to mark the introduction of detention without trial during the height of the Troubles.
The rally began at Ardoyne Avenue in the north of the city, before heading towards the city centre.
A group of about loyalists staged a protest, and trouble erupted as the parade passed Castlecourt shopping centre.
BBC NI reporter Mark Simpson said a small number of the protesters threw some missiles.
"The loyalists claimed that the republicans had taunted them about IRA atrocities including the Shankill bomb and the Enniskillen bomb."
Many roads in the city centre were closed to traffic during the parade.
Loyalist protesters applied to stage two counter-demonstrations against the march.
The Parades Commission placed restrictions on the number of loyalists permitted to attend the protests, limiting them to total of 400 people at two demonstration points.