Fionnuala Jay-O'Boyle is new Lord Lieutenant for Belfast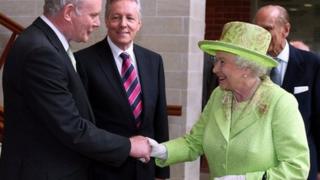 Mrs Fionnuala Jay-O'Boyle has been appointed Lord Lieutenant for Belfast.
She replaced Olympic gold-medallist athlete Mary Peters last month. Mrs Jay-O'Boyle was appointed a Deputy Lieutenant in 2009.
The new Lord Lieutenant has a background in communications, PR and marketing, and founded Jay Associates, a public and government affairs consultancy, in 1991.
She was awarded a CBE for services to heritage in 2008.
Mrs Jay-O'Boyle has a long record of public and voluntary service, including the Belfast Civic Trust, the Prince's Regeneration Trust and Teachers of Singing in Ireland.
Lord Lieutenants are the Queen's representatives for each county in the UK. They are appointed by the Queen on the advice of the prime minister.
Their primary role is in the organisation of all official royal visits to their county.