NI care homes: Commissioner begins review into regulation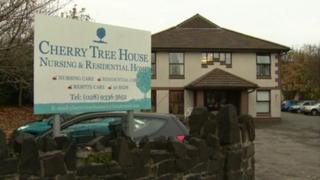 The Commissioner for Older People says criminal charges should be brought against care homes where staff repeatedly fail to meet standards.
Claire Keatinge is launching a review into the regulation of care homes in Northern Ireland.
It follows highly critical reports into several homes that have been highlighted by the BBC.
She said: "Clearly the current system does not adequately protect those who rely on it for their care."
The commissioner is to recommend changes about the regulation, inspection and delivery of nursing, residential and domiciliary care.
One of the homes investigated by the BBC was Cherry Tree nursing home in County Antrim.
The report followed allegations made by a whistleblower about the mistreatment of patients and poor standards of care.
A subsequent independent review also revealed a damning catalogue of poor care and consistent failures by the home over several years.
The report also highlighted that complaints and concerns raised by staff, relatives and residents were not properly dealt with by the health regulators, the RQIA.
The whistleblower who originally approached the BBC with her story said this latest review by Ms Keatinge, once again, vindicated her actions.
"I'm delighted. This affects older people their safety and their well-being," she said.
There have been similar problems at other homes caring for vulnerable people.
In a series of reports, the BBC has raised questions regarding good practice at Owenvale Court and Our Lady's nursing homes in west Belfast.
Owenvale court has since been taken over by new owners. When questions were raised by the regulators in 2011/2012 the home was owned by St John of God.
However, under the new ownership the problems have been addressed.
In June, a County Antrim woman whose father died at Chester nursing home in Antrim told the BBC that she was "riddled with guilt" after discovering the home had breached numerous regulations just months before he died.
M Keatinge said: "The findings of the independent review into Cherry Tree House nursing and residential care home highlight fundamental failings in the regulation, inspection and delivery of care to vulnerable older people.
"The fact that this home continued to operate for years, in spite of persistently failing to meet the necessary standards, is shocking.
"The whole complex system of registered owners and managers, professional standards and regulation, inspections, protections for whistleblowers, improvement and compliance regulations still did not protect vulnerable older people from years of cruelty and poor care.
"Clearly, the current system does not adequately protect those who rely on it for their care."
The commissioner says any recommendations she makes to the health minister regarding care homes will apply to domiciliary care as well.