Security alert in graveyard of Coleraine Catholic church ends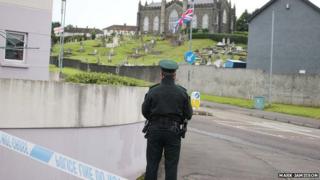 A security alert at a graveyard in Coleraine, County Londonderry, has ended.
An Army bomb disposal team carried out a controlled explosion on what is believed to be an old-style grenade.
It has been removed for testing along with two handguns and a quantity of ammunition, which are also thought to have been in the grave for a long time.
A security cordon, which was put in place around Laurelhill Road cemetery on Tuesday evening, has been removed.
No roads were closed and no homes were evacuated during the alert.
Coleraine mayor George Duddy said the gravedigger found something as he was starting to open the grave.
"He wasn't any great depth down, approximately a foot, when he came across something which he believed suspicious enough to contact the police," he said.
"There is obviously going to be somebody buried there and it may well have some form of delay in regards to that burial."