Street in Lurgan is closed after a building is seen 'wavering'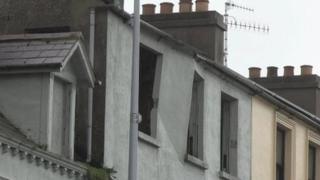 Contractors have been working to make safe a building in Lurgan, County Armagh, amid fears that it could collapse.
William Street has been closed since yesterday after members of the public noticed part of the building leaning forwards.
Several shops and offices were forced to close.
Among those affected was SDLP MLA Dolores Kelly whose constituency office is on William Street.
The Upper Bann representative said the building had been a concern for some time.
"People passing by yesterday noticed the building wavering and we actually reported it to environmental services, the police and building control.
"There are some difficulties in that the building is within a conservation area and, strictly speaking, would require planning permission for its complete demolition. So, at this stage, as I understand it, they're taking down the most dangerous and at risk part of the building. But I certainly hope that the building will be completely demolished."