Game of Thrones Ser Denys Mallister actor JJ Murphy's funeral held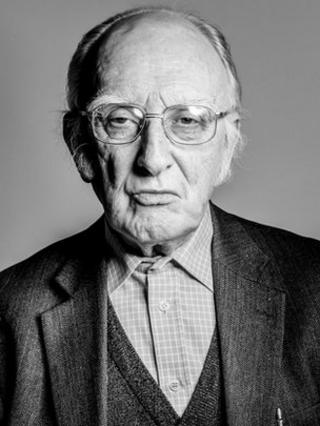 The funeral has been held of veteran actor JJ Murphy, who died shortly after filming his first scenes for Game of Thrones.
Mr Murphy, 86, died suddenly on Friday at his home in Belfast.
He had recently joined the cast for series five of the HBO series, which is largely filmed in Northern Ireland.
Mourners at St Brigid's Church were told his death had come as a great shock, as he had continued to play an active part in parish life.
"He was delighted to be cast for a part in the fantasy epic Game of Thrones - but now all fantasy is left behind," said Fr Edward O'Donnell.
"As JJ fell asleep in this world, it is our Christian hope that he wakened in eternal life, and entered into reality beyond reality, and that he stands now before the throne of the one before whom 'every knee shall bow'."
Theatre
Fr O'Donnell said the Belfast-born actor and his wife Mary would have celebrated their 59th wedding anniversary next month, and over years of fundraising for orphans in Bosnia, they had collected £167,000.
Mr Murphy had been cast as Ser Denys Mallister of the Night's Watch.
The character was due to appear throughout series five, and he had been due to film more scenes this summer.
He also had a role alongside fellow Game of Thrones actor, Charles Dance, in the upcoming Hollywood film, Dracula Untold.
The movie was filmed in Northern Ireland in 2013 with a budget of £100m, and is due to be released in October.
Dracula Untold was not Mr Murphy's first experience of Bram Stoker's creation. He played Van Helsing in a 1980 production of The Death of Dracula at the Lyric Theatre in Belfast.
He was well known in Northern Ireland for his stage work having trained at the Old Group Drama School in the 1940s, and as a member of the Lyric Players Theatre.
Mr Murphy leaves behind wife Mary, and two children, Joseph and Jane, and granddaughter Sarah-Jane.