Stranocum, County Antrim, man 'told land move would cure pain'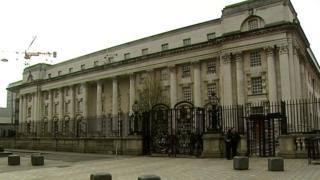 A pensioner was allegedly told he could be cured of chronic pain if he transferred farmland worth £1.5m to a business associate, a court has heard.
James McIlhatton, 73, also said he paid £500,000 to defendant John McMullan before their relationship broke down.
Details emerged as a judge ordered Mr McMullan to hand back some of the land near Ballymoney, County Antrim.
The case centred on a dispute over an agreement to hand over 150 acres, premises in Stranocum and cash.
Mr McIlhatton issued a writ in 2011 to revoke the arrangement on the grounds of misrepresentation, undue influence, deceit, fraud and breach of contract.
He also sought restitution of all money advanced due to Mr McMullan's alleged wrongdoing.
With Mr McIlhatton said to be in pain and suffering ill-health, the court heard claims Mr McMullan persuaded him that he could cure him if he transferred his property to the defendant.
Mr McMullan denied purporting to be a healer. He did not, however, dispute that the land was moved to him or money paid out.
According to his case, the two men had known each other from childhood and agreed on a joint venture restoring and selling used cars, with profits split 50/50.
Mr McMullan claimed to have been involved in running the farm and an equestrian business.
Although Mr McMullan accepted £212,000 of an alleged £500,000 was advanced to him in loans, he denied any payments were made in the form of "fines" for the plaintiff's "disbelief".
Earlier this year the case appeared to have been settled when the defendant agreed to transfer back some of the land.
No requirement was made for money to be repaid by Mr McMullan, who now says he is penniless.
But after he refused to complete the transfer, Mr McIlhatton's lawyers sought a court order.
Counsel for the defendant resisted the move, arguing that the original settlement should instead be set aside.
Mr McMullan claimed he signed up to the agreement on the basis of mistaken legal advice, and that he was denied a house in habitable condition on Moyan Road as part of the settlement.
Retrospective excuse
Rejecting the defendant's case, High Court judge Mr Justice Deeny said no mention was made of the dwelling in the original agreement.
He said it appeared to be a retrospective excuse for not completing his bargain.
"The original claim here was for the restoration of over 150 acres of land, valued at £1.5m, and the restoration of monies of about £500,000," the judge pointed out.
"The fundamentals of this agreement were that the plaintiff was to get back his home and some of his lands, and in return for that the defendant was allowed to retain some of the other land which he had acquired and was relieved of an acknowledged debt of £212,000 and a possible claim for restitution of about another £300,000," he said.
Identifying no evidence of mistaken legal advice either, Mr Justice Deeny added: "It seems to me the defendant got a very good settlement so far as the circumstances are known to the court."
He ruled that Mr McMullan had entered into a legally binding agreement and granted the order sought by Mr McIlhatton.
"The defendant shall, within 14 days of this judgment, time being of the essence, execute a transfer to the plaintiff of those lands at Moyan Road, Stranocum, Ballymoney."