Fire at derelict houses in Belfast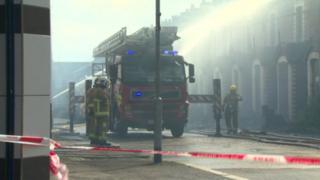 Firefighters have brought a large fire close to Belfast's Shankill Road under control.
Eight derelict houses caught fire in Glenwood Street, sending smoke billowing through the area.
Ulster Unionist Party spokesman Bill Manwaring said thick smoke "literally covered the whole upper Shankill".
The police have said that at this stage they do not believe the fire was started deliberately. The houses had already been earmarked for demolition.
Mr Manwaring said he had spoken to staff from the Northern Ireland Housing Executive at the scene.
He said they told him the demolition would proceed from next Monday.