East Strand, Portrush, closed after water quality test failure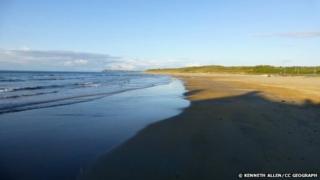 A popular beach in County Antrim has been closed to the public after a sample of sea-water failed to meet European bathing water standards.
The Department of the Environment (DOE) said it was "investigating possible causes of the pollution" at East Strand, Portrush.
The sample that failed the test was collected on Tuesday 12 August.
The water was retested on Wednesday to check if it is back to normal. The result will be available on Thursday.
'Public health'
In a statement, the DOE said the water had been tested for "faecal indicator bacteria" and Tuesday's sample "failed to meet the required standard of the EC Bathing Waters Directive".
East Strand, Portrush is looked after by Coleraine Borough Council.
It is one of 23 beaches in Northern Ireland where the water quality is regularly tested during the annual bathing season, which runs from 1 May to 15 September each year.
The DOE said it works closely with beach operators to notify members of the public "in order to protect public health in the event of poor water quality".
"DOE will liaise again with the council tomorrow morning (Thursday) to advise if the public notice may be removed," the statement added.