Northern Ireland home repossessions lowest since 2007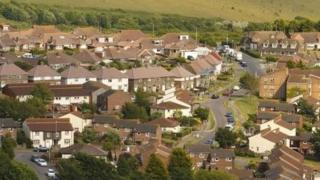 The number of new mortgage repossession cases coming before Northern Ireland courts in the first half of 2014 was the lowest since 2007.
There were 1,607 cases initiated between January and June compared to 1,960 in the same period in 2013.
That was the lowest six-monthly figure since the second half of 2007 when 1,063 cases were started.
There was a surge in repossession cases after the housing crash.
Northern Ireland suffered one of the most severe house prices crashes in economic history.
The number of new repossession cases reached a peak of 1,975 in the first half of 2009.
The number of cases disposed of - those cases in which the court makes a decision - reached a six-year low in the first half of the year.
In the first six months of 2014 there were 1,127 disposals, the lowest number since the same period in 2008 when 847 cases were disposed of.
Social Development Minister Nelson McCausland has set up a housing repossessions taskforce to investigate the issue of negative equity and repossessions in Northern Ireland.
It produced an assessment of the problems in July and is now working on recommendations.