Tonnes of toxic waste found at illegal fuel plant in Meigh, County Armagh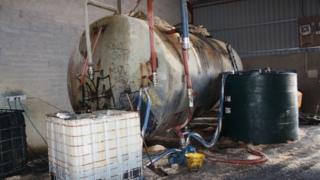 About 15 tonnes of toxic waste have been discovered at an illegal fuel plant in the village of Meigh, County Armagh.
HM Revenue and Customs (HMRC), accompanied by police, have removed the waste safely. They also seized 3,000 litres of fuel from the site.
The plant was discovered by HMRC officers when they searched industrial premises in the area on Thursday.
A man from County Armagh was arrested but has since been released on bail.
'Untold damage'
A HMRC spokesperson said the laundering operation was capable of producing nearly 13m litres of illicit fuel a year, and evading over £9m in duty and taxes.
HMRC's criminal investigation assistant director, Mike Parkinson said they have "stopped a large amount of illicit fuel entering the legitimate market, preventing further revenue loss and helping law-abiding traders fight unfair competition".
"We have also safely removed toxic waste which can cause untold damage to the environment and local landscape.
Mr Parkinson added: "Buying illicit fuel not only funds crime, it also supports and encourages these dangerous activities within our communities."