Sammy Brush: DUP councillor in Ballygawley 'targeted for 39th time'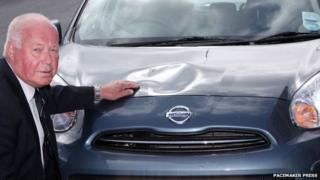 A DUP councillor in County Tyrone has said his property has been attacked for the 39th time, after his car was damaged in an overnight attack.
It happened in the early hours of Saturday morning on Main Street in Ballygawley.
The bonnet of the car was damaged. Councillor Sammy Brush said he believed the attack was sectarian.
The police said they want to speak to two men who were outside a pub in the area at about 05:00 BST on Saturday.
Mr Brush said the attacks had been taking place for a number of years.
He said: "There have been ongoing problems for years. This is just the latest in a long line of attacks on my car and my home. It is not happening to anyone else in the village, it is purely sectarian hatred."
The councillor, who is a former part-time UDR soldier, survived an IRA gun attack in Aughnacloy, County Tyrone, in June 1981.
At the time of the shooting he was off duty and carrying out his day job as a postman.
Mr Brush was making a delivery to a house north of Aughnacloy when he was approached by a masked gunman, who shot at him from about 12 feet.
UDR soldiers were frequently targeted in IRA attacks during the Troubles, and Mr Brush was wearing a bullet-proof jacket and carrying a pistol as he carried out his postal rounds.
The bullet-proof jacket saved his life and he returned fire with his own pistol, wounding the gunman.