Newry mayor: Unionists to hold no confidence vote over Gaza letter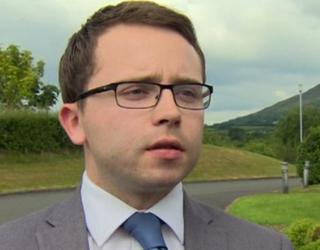 Unionists on Newry and Mourne District Council are to present a motion of no confidence in the Sinn Féin mayor at a council meeting on Monday night.
It comes after councillor Dáire Hughes wrote to traders in the area in July, asking them to consider not stocking Israeli goods.
Unionists said the mayor had no right to send the letter.
Newry and Mourne District Council said it was issued by an individual and had not been adopted by the council.
'Sinister in nature'
Ulster Unionist councillor David Taylor said Mr Hughes had failed to "act duly and appropriately" as mayor.
"I am acutely aware of the differing views in terms of the complex political situation in the Middle East," he said.
"The mayor took a decision to issue correspondence which can only be described as insulting and sinister in nature - without the consent or approval of council members - and this has subsequently led to him tainting the position of first citizen of our district."
In the letter, Mr Hughes also asked traders to provide a list of products they stocked from Israel to help customers to boycott Israeli goods.
Mr Hughes said he had no regrets about writing the letter and that he had "no intentions" of rescinding it.
Mr Taylor said there had been "considerable anger and concern" over the mayor's decision, and he was concerned it could damage the reputation of the district.
He called on Mr Hughes to offer an immediate apology or consider stepping down from his role as mayor.