Rathcoole community centre: Rally held against attacks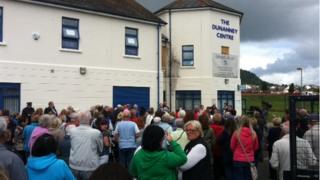 A rally has been held in support of a community centre in the Rathcoole estate in Newtownabbey after four attacks in as many months.
The Dunanney centre was daubed with sectarian graffiti last Wednesday.
Work had only just begun to repair the damage caused by a petrol bomb attack in July.
There had been an arson attack on the boiler room in April and sectarian flags had been erected on the building against the centre's wishes.
Police are treating last Wednesday's incident at the centre as a hate crime.
The premises houses one of Northern Ireland's busiest citizens advice bureau as well as computer courses and work placement programmes for young people.
During Monday's rally, Frank Mckeown of Rathcoole Presbyterian Church denied local rumours that the facility was offering Irish language lessons.
Chair of the centre Pat Hutchinson said they did not know why the centre had been attacked.
"There's all sorts of rumours being bandied about. None of them are true. There isn't an Irish language class being run at the centre," she said.
"This is a centre for the whole community, from babies to pensioners so it's a really important part of the whole community.
"This rally was the people's idea. They approached us and asked us to run something like this so they could show solidarity with us."
Michelle Ferguson, who uses the centre, urged the attacks to stop.
"If it doesn't stop, people are not going to get help anywhere else. It needs to stop now."
Local people said the attacks on the community centre were not the work of any recognised organisation, but were being carried out by a small number of people determined to create a climate of fear.