Human trafficking: Two men face people trafficking charges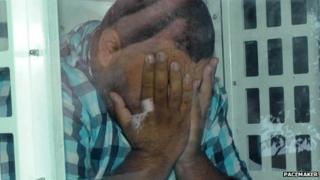 Two men have appeared in court charged with a series of people trafficking offences.
Samuil Covaci, 23, from Charles Street, Portadown, and Ioan Lacatus, 31, from Hanover Street, Portadown, both face 12 people trafficking and 12 forced labour charges.
They also each face a charge of acting as unlicensed gang masters.
Both men deny the charges. Last week, 20 Romanian nationals were rescued by the police in County Armagh.
Many of the 14 men and six women were related.
Mr Lacatus faces a further charge of concealing property contrary to the Proceeds of Crime Act 2002.
The alleged offences took place in a period between 31 May 2014 and 15 August 2014.
It is understood that a police investigation into alleged forced labour in the food processing industry began last week.
The men, who are from Romania, had the charges translated to them at Lisburn Magistrates' Court on Tuesday.
The defence confirmed that the case spans jurisdictions, including the Republic of Ireland and Romania, but it is believed the police investigation is focused on Craigavon, County Armagh.
A 27-year-old man arrested as part of the investigation is still being questioned at Antrim police station.
Additional translators have been flown in from England to help police gather information.