Big rise in calls to suicide helpline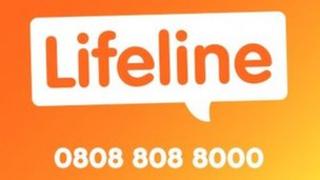 There has been a large increase in people contacting Northern Ireland's main helpline for people at risk of suicide.
Calls to the Lifeline crisis response service have risen by almost a third.
The Public Health Agency has been carrying out a consultation on Lifeline, which was initially piloted in 2007.
In the final three months of 2011 there were 12,500 calls. In a three-month period in 2014 there were 17,500 calls.
Those calls are dealt with by six full-time telephone counsellors during the day and fewer at night. There are no volunteer telephone counsellors.
Counselling sessions
Some respondents to the evaluation of the service said more staff were needed.
Those who contact the service can have up to six free face-to-face counselling sessions - the first within five to 10 days of their initial call.
Demand for this service has also increased over the past three years.
In 2011 there were an average of 417 people a month who received further counselling. By 2013 this had risen to 595 people a month - a rise of 43%.
However, some people who responded to the evaluation of the service said that it was easier for people in urban areas to access follow-up services.
They said the first 48 hours after someone initially approached the service were crucial so it may not be ideal that people have to wait five to 10 days for further counselling.
Effective
Despite a suicide prevention strategy throughout the Department of Health being in place since 2006, suicide rates in Northern Ireland have remained high - especially among men.
Two hundred and ninety one suicides were registered in Northern Ireland in 2006. That rose to 313 in 2010, but came down to 278 in 2012.
The Public Health Agency's head of health improvement said there was clear evidence that telephone helplines were effective in assisting people in crisis.
"You can de-escalate that person, get them to settle and empower themselves to make decisions about their own wellbeing," said Brendan Bonner.
"Compared to 2012, the overall number of calls hasn't changed but the profile of callers has - we've done a lot of advertising around the service and while back in 2012, only 8% of people knew about it, that has increased to 30% last year.
"Promotional campaigns mean that more people will become aware of it, and more importantly, those people most at risk will start to use the service."