Jobs fears at 3fivetwo medical business in Belfast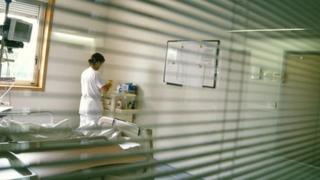 Northern Ireland's largest, private medical group may have to lay off 50 staff following a cut in the number of patients referred by the NHS.
In July, the Health and Social Care Board told health trusts to "pause" referrals to private clinics as part of a move to save money.
The 3fivetwo group said it was "impossible for it to carry jobs with no certainty of future contracts".
3fivetwo has received more than £40m of NHS work in the past four years.
The firm, that is based in south Belfast, said it was with "great sadness" that it had to take the decision to cut jobs.
Its hospital business on the Lisburn Road is not affected, but it is understood the jobs under threat are at its head office in the Titanic Quarter.
The company employs a total of 240 people, and its private sector business remains unaffected.
All the health trusts refer routine work, such as orthopaedic surgery, to private firms as part of what is called the "waiting list initiative". (WLI).
Monitoring round
It is feared that waiting times could rise, for procedures such as hip and knee replacements, as a result of the board's move.
The health service in Northern Ireland is under financial pressure.
During a recent reallocation of funds, known as the monitoring round, the Department of Health requested an extra £160m, but will only receive an extra £20m.
That is dependent on its budget management performance improving between now and October.
An earlier "pause" in WLI work five years ago led to another private medical business going into administration.
The Belfast Clinic Ltd failed in 2010 owing its creditors almost £10m.