Animal cruelty: DPP 'powerless' to refer cases to appeal court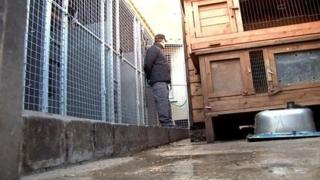 The Director of Public Prosecutions has said he is powerless to refer sentences handed down in an animal cruelty case for review to the Court of Appeal.
There was outrage when four men were given six month suspended sentences in March for animal cruelty offences.
The PSNI, politicians and animal welfare groups criticised the outcome as being too lenient.
Barra McGrory QC said the offences did not fall into the category of crimes where sentencing could be reviewed.
The police said a prison sentence would have acted as a greater deterrent.
Speaking to the BBC, Mr McGrory said the power to refer cases to the Court of Appeal on the grounds that they were unduly lenient was governed by statute.
"This type of case you are talking about is not currently on the list of cases which I can consider for referral," he said.
Dog fights
Jeremiah Kirkwood, 43, and his sons, Chris and Wayne, from Island street in east Belfast admitted keeping or training animals for fighting.
They also admitted causing unnecessary suffering to animals.
Their neighbour Jamie Morrow, 19, of McAllister Court, pleaded guilty to a charge of keeping or training an animal for use in connection with a dog fight.
A video on a mobile phone found in Morrow's home showed four dogs tearing a cat to pieces.
While the prosecution could not say that any of the accused were present when the footage was recorded, the discovery led to searches of the Kirkwood home where several "well-constructed kennels" were found in the yard.
Mr McGrory said animal cruelty cases could only be added to the schedule of offences that could be sent to the Court of Appeal for review in future if the appropriate legislation was changed at Stormont.
He said: "It is a matter for our society to determine how broad that list should be following consultation and through the minister for justice. I understand the minister for justice is reviewing the current list of cases."
Review
A spokesperson for the Department of Justice said: "The welfare of animals is primarily the responsibility of the Minister of Agriculture and Rural Development, who has commissioned a review of the implementation of the Welfare of Animals Act (Northern Ireland) 2011 and the Department of Justice is supporting this review.
"A separate review of the ambit of the unduly lenient sentencing scheme is also planned and offences under the Welfare of Animals Act will be considered within this review."
Stormont justice committee member Tom Elliott MLA welcomed the review but criticised the length of time it could take to change legislation in Northern Ireland.
"An overall review should take place, but it should be done as quickly and as urgently as possible," he said.
"It should be done in a reasonable timescale and not have to wait the full-time for legislation that may take months and indeed years."